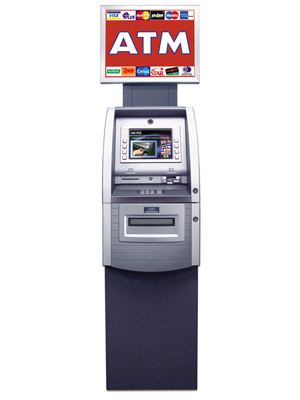 Hantle c4000P Series

The Hantle C4000P represents the 'best in class' in Retail model ATMs. With a classic design and built with standard features such as a 10.4" High-Resolution LED backlit color LCD, support for both modem and Internet communications and a wide variety of dispensing options (up to 4 cassettes), the C4000P provides an upscale and versatile ATM solution.

The C4000P is being offered with a motorized cash presenter, this new feature is available with single and multiple cassette configurations and improves the customer experience by functioning as a bank ATM.

The C4000P allows for custom branding through 8 full-size (800×600) advertisement screens as well as the ability to upload a custom graphic to the customer receipt.

The Hantle C4000P is ADA compliant, includes a PCI and Interac certified Encrypting Pin Pad (EPP) and can be ordered with an EMV (chip-card) ready reader.
Evolution Cash Technologies provides Canada-wide ATM Processing
Dedicated Local Account Manager
No Monthly Fees
24/7 Toll Free Support
Free Online Reports
No Processing Fees
No Statement Fee
No Fees To Connect to ATM Networks
Free ATM Receipt Paper
LEARN MORE
For The Best ATM Plans and Service in Canada Contact Evolution Cash Technologies.
Whether you choose to own your automatic teller machine or take advantage of one of our customized Free or Leasing ATM plans, you can be certain that you'll earn the best ATM profits and get the best service in Canada with Evolution Cash Technologies.
For more information about our ATM Plans, either call us toll-free at 888-724-1114 or contact us by email using our convenient Contact Form.
Regardless of which option you choose, Evolution Cash provides comprehensive ATM sales and service on all our ATM machines. We'll be happy to discuss your business needs and put together the ATM Plan that suits you best.
If you want to buy or rent an ATM – automated teller machine; ABM; cash machine or bank machine contact Evolution Cash for the best ATM equipment in Ontario, Manitoba, Saskatchewan, Alberta, and BC Canada. One of our best sellers is the Hantle c4000P. It's easy to get a free ATM, or to and get started in the ATM machine business today.